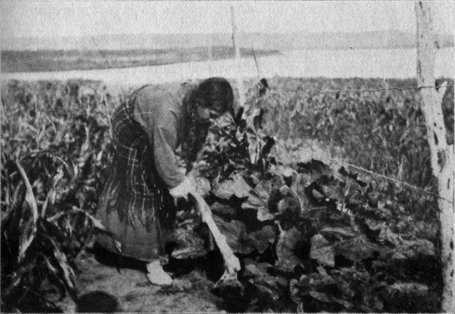 Hoeing squashes with a bone hoe
The Plant Nutter's (Virtual) Book Club is all about searching out and reading interesting plant books. It's a kind of bibliotherapy for the plant-loving bibliophiles of the world, weary of heart as they wade through the often underwhelming weight of newly published gardening books.
To start us off I have chosen a widely available classic, Buffalo Bird Woman's Garden (check out the sourcing suggestions if you need to get your hands on a copy).
Maxi'diwiac (Buffalo Bird Woman) of the Hidatsa tribe lived on a reservation in North Dakota in the late 19th/ early 20th century. She maintained the traditional skills, including gardening, and recounted them to Gilbert Wilson, who published the account as his PhD thesis ("Agriculture of the Hidatsa Indians: An Indian Interpretation" by Gilbert Livingstone Wilson, Ph.D. (1868-1930) Minneapolis: The University of Minnesota (Studies in the Social Sciences, #9), 1917. Ph. D. Thesis.) in 1917. It was later republished as the Buffalo Bird Woman's Garden, the book we are going to read together.
You can use this post to record your thoughts about the book as you read; I'll put up a discussion post on 15th February so that we can have a proper natter, although you will have to provide your own biscuits.
In the meantime, you can also leave a comment on this post to suggest the next title, to read in March. We'll have a vote on the suggestions in February, and I'll confirm the next title when I start the discussion on this one. My suggestion for our second book would be a new one – Stephen Barstow's Around the World in 80 Plants, which is due to be published in the UK on 7th March 2014. It will be available in the US from Chelsea Green, but not immediately – so you may prefer to choose something else for March and come back to Stephen's book when more of us can get our hands on a copy.
We could also continue our way through classic books available online – there are plenty. The Moss Grower's Handbook handbook has been on my list for a while, and might be fun.
Anyway, feel free to make your own suggestions in the comments (or you can email me) and we'll have the vote next month.
I'll be quiet now, so you can read 🙂